You can
CHANGE THE COLOR OF YOUR CLOTHES
with only 4 easy steps!!!
1. Get in the clothes you want to change the color of
2. Do a move [any one will do]
3. Change into the color you want the outfit
[the one you have on]
to be
4. exit and you will still be doing the move but the color of your outfit you started with will change!!!
Confused? Well here is an example!
Then to this: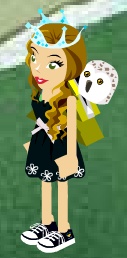 [NOTE: I dont have the black dress!!!]

What i did in the example:
I put on my dress. [the blue one]
did the jumping move
changed into a black top and shoes
exited and wallah!
You have a new outfit!!!

If you are a VIB!!!
you can also change the backpack color!
NOTE: THEY WILL STAY IN YOUR INVENTORY THE COLOR THEY ORIGINALLY WERE!!!!!!!
ALSO: once you move you will be put back into the clothes you have on!!!
ANOTHER EXAMPLE AND WHAT I DID: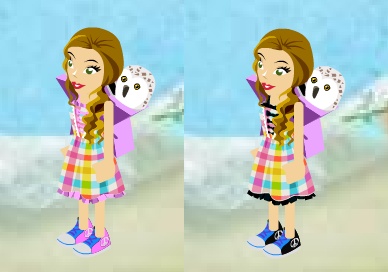 WHAT I DID:
got in pink outfit
did Tambourine move
changed into black top and shoes
exited and wallah!!!
It is a pretty cool color changer!!!
~alysiacoco